You're antsy for new digs, and you just need to sell your current home to snag that dream house. But before you box up your prized LEGO® collection and book a moving truck, you need to answer the nagging question at the back of your mind: What's it going to cost to sell my house?
In this guide, we dive deep into what costs sellers should expect to pay. Keep in mind that fees may vary widely based on your location, market conditions, and whether your home requires repairs before selling. We detail what costs you're likely to incur and what sellers pay on average.
Kentucky-based Dianna Caldwell, a seasoned agent with 16 years of industry experience under her belt, gave us a rundown of seller costs and what homeowners should budget before they sit down to the closing table.
How much you can expect to pay overall
According to Caldwell, the average cost to sell a home can range between 7% to 8% of a home's purchase price. Depending on other factors such as your location, your home's condition, and current market conditions, that estimate can run up to 10%.
We break down what the cost of a home sale could look like based on the average U.S. home sales price of $453,300, as reported by the Federal Reserve Bank of Saint Louis. One item of note: We don't include your mortgage loan payoff in our cost estimate, so keep in mind that you have to pay off any outstanding home loan balances when you sell. Accounting for your payoff amount will help you determine how much cash you'll net after your home sale closes.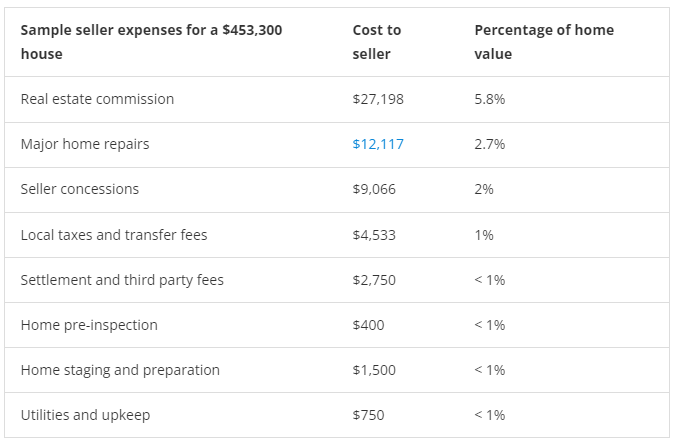 Real estate agent commission
Commission fees make up the heftiest portion of a home's selling cost, accounting for 5% to 6% of your home's sales price. According to national transaction data collected by HomeLight, U.S. home sellers pay an average of 5.8% in agent commission. Typical commission fees vary depending on your home's location. Discover what sellers in your area typically pay by looking up your city using HomeLight's agent commission calculator.
Sellers in San Francisco, for example, pay 5.04% on average. At a median home price of $1,540,000 as of October 2021, the real estate agent commission cost to sell a home averages $78,232.
Listing agents typically split the commission fee with the buyer's agent, which the seller pays for when their home closes. Both the listing agent and the buyer's agent will then share a percentage of their commission with their sponsoring broker. According to a report issued by the Consumer Federation of America (CFA), commission rates and splits tend to remain consistent in most areas. And an adequate commission split plays a role in marketing your home to buyers.
According to the agents surveyed, "if these splits are below the typical rate for the area, buyer agents will have less incentive to show properties."
Full service real estate agents offer a gamut of seller services, from social media marketing to professional photography and videography, says Caldwell. Not to mention negotiating a great deal and offering advice on how to prepare your home to appeal to the widest range of buyers.
Major home repairs and renovations
"Having your home in the best condition possible when you go on the market is the most important thing," stresses Caldwell. The type of home repairs and renovations a seller should complete remains one of the more variable costs, but could end up one of the pricier expenses for a seller. And the cost outlay ultimately hinges on your home's condition. Replacing a leaky roof, for example, averages $8,527 while repairing an HVAC unit averages $350.
Your location, price point, and market conditions can all impact which repairs and renovations you should focus on. For example, in a strong sellers market where owners receive multiple offers and therefore retain negotiation leverage, you could get away with minimal (or even zero) repairs. On the flip side, in a buyer's market, ensuring all of your home's major systems remain in working order can keep buyers from passing over your property for the one next door.
The same mindset applies to renovations. According to Caldwell, today's buyers look for turnkey homes, not sweat equity. Buyers "don't want to do anything when they move in now, whereas ten years ago they wanted a fixer upper because they felt that they were saving money," she says. "Today they don't want that. They just want to be able to move in and [have] it be just like they want it."
That may mean updating the kitchen's disco-era linoleum floors to tile at an average project cost of $1,929 or installing fresh carpet at an average price of $1,764.
Settlement and third party fees
Settlement fees, or closing fees, include costs related to the transfer and sale of your home, which may include:
Settlement agent, or closing, fee
Title insurance search and policy premiums
Document preparation fees
Notary fee
Recording fees
Homeowner association document and transfer fees
Home warranty
Local customs tend to dictate whether a seller should expect to pay for certain settlement costs. In Kentucky, for example, the buyer typically pays for both the owner's and lender's title insurance policy and title search. But in Texas, the seller customarily pays for the owner's policy while the buyer pays for the lender's policy.
Seller concession
A sales concession is an incentive that you as a seller can offer to buyers to sweeten the deal, essentially agreeing to pay for costs that a buyer would typically pay for. For example, a seller could entice a buyer by offering to pay for some or all of the buyer's mortgage fees at closing.
In some instances, buyers may also use the seller concession strategically by rolling the costs into the purchase price, or increasing the offer price and adding the seller credit. Buyer closing costs tend to run between 2% to 5% of the home's purchase price. Agreeing to pay 2% toward a buyer's closing costs on a $450,000 home sale would result in a $9,000 seller concession.
If the buyer finances the home purchase, their lender typically caps seller concessions. Under conventional lending guidelines, a sales concession can't exceed between 3% and 9% of the purchase price, depending on the buyer's loan-to-value ratio.
Home staging and preparation
Sprucing up your home "will mean the difference in selling [your home] quickly or not selling it quickly. Or selling it for market value or above market market value," says Caldwell.
Basic home prep
She urges sellers not to skip on decluttering or adding a fresh coat of paint when it's needed. And many real estate agents will walk through with their clients and prepare a punch list for areas that need attention. Hiring interior painters can cost $1,903. Jazzing up a front yard with basic flower planting and shrub planting averages $1,034, while window washing and deep cleaning runs between $$220 and $450, respectively.
"Buyers will make a decision if they want to continue looking at the house, or if they have interest in the home, within seven seconds," Caldwell points out. "So that first impression of walking through the front door — you've got seven seconds to get their attention."
Staging
The importance of staging tends to be location-specific (Caldwell notes that home staging isn't a widespread practice in her area), so consult your local agent to find out whether it's worth spending the money. The National Association of Realtors (NAR) estimates the median cost of home staging at $1,500.
The NAR 2021 Profile of Home Staging also revealed that some homes sold faster when staged, with 22% of seller's agents surveyed noting a slight decrease in time on the market. In some cases, sellers received higher offers than unstaged homes. Twenty-three percent of agents surveyed reported a value increase of between 1% and 5% when compared to similar homes.
Home inspection
Buyers typically pay for home inspections, but some savvy sellers order a pre-inspection, which ranges between $279 and $400, to get ahead of repairs and avoid potential roadblocks. If the home inspector discovers an undisclosed deficiency, say a major electrical issue, after a buyer enters the picture, the buyer may demand a contract renegotiation or worse — cancel the deal and run.
Having the inspection information before you list can help weed out repair-adverse buyers and help avoid seller concessions down the road.
Transfer tax
Your state or local municipality may mandate a deed transfer tax, sometimes referred to as a documentary transfer tax upon the sale of your home. Similar to some settlement fees, the party that pays the transfer tax depends on the local custom.
Caldwell says that in her area, transfer tax fees are 1% of a home's sales price, but each state has different laws and mandates.
In Los Angeles County, for example, the transfer tax fee equals $1.10 per $1,000. Also, some cities charge an additional transfer tax. The city of Los Angeles charges an additional $4.50 per $1,000. The sale of a $500,000 home in the city of Los Angeles would be subject to a $5,500 county tax, along with a $22,500 city transfer tax.
Utilities and upkeep until the sale closes
If you move out early, you'll need to keep major utilities such as water, gas, and electricity up and running until your home sells. Without the utilities, home inspectors won't be able to test water lines and other major house systems, such as the HVAC. Also, buyers typically schedule a final walk-through of the home to ensure that the house is in the same condition as when you accepted their offer.
Capital gains tax
If you sell your home at a higher price than you bought it, you may owe capital gains tax on your annual federal tax return. The IRS taxes long-term capital gains at 15% for most individuals, and up to 20% for high income earners.
However, you may not have to pay taxes on gains of up to $250,000 (or $500,000 if married and filing jointly) from the sale of a home you've lived in as your primary residence for the past two of the past five years.
Scenario 1: The Lins purchase a home for $300,000. After living there for three years, they sell the house at a market high of $525,000. As a married couple filing jointly, the Lins can exclude up to $500,000 of capital gains tax on the home sale. Based on IRS tax code, the Lins can exclude the $225,000 gain from the sale of their home.
Scenario 2: Casey buys a home for $250,000. After living in the home for ten years, Casey sells the house for $550,000, gaining $300,000. As a single person, Casey can exclude $250,000 of the gain from her income tax return. She pays 15% capital gains tax on the remaining $50,000, totaling $7,500.
How to reduce the cost of selling your house
DIY home repairs and preparation. If you're handy, you can save on costs by taking a do-it-yourself approach when sprucing up your home for buyers. Head to the home improvement store and pick up brushes and paint to save on professional painting. Or repair small maintenance issues such as a dripping faucet to save on repair fees.
When deciding what tasks to take on yourself, keep your selling timeline in mind. Preparing a home for sale can take time, and if you're in a rush, it may be better to hire pros when you're on a tight deadline to sell.
Wait to sell during a seller's market, if you can. If you aren't on a timetable, track market conditions to find out when prices are trending upward and when there aren't many homes for sale. In a seller's market, sellers wield more negotiating power, both with price and seller terms, such as what repairs you're willing to pay for.
Hire a battle-tested real estate agent. Look for a local listing agent with a track record of hammering out the best overall deal for their clients. HomeLight connects homeowners with the best listing agents in the area with its agent search. The free agent match tool analyzes over 27 million transactions and thousands of reviews to determine which agent is best for you based on your needs.
And think twice about ditching your agent and selling the home yourself to save on fees. Selling without a Realtor® usually nets a lower sales price. And the caliber of real estate agent matters. HomeLight data reveals that the top 5% of real estate agents across the U.S. sell homes for as much as 10% more than the average real estate agent.
An estimated seller net sheet lays out most of your seller fees
For a general idea of how much you could net after the sale of your home, try HomeLight's free Home Sale Calculator. The tool estimates the cost of selling your home and what you could earn at closing.
Caldwell also suggests an agent-furnished option. She prepares an upfront estimated seller net sheet for clients to avoid surprises. The document lists most seller costs, although you may need to ask your agent to include the estimated cost to prepare your home for sale, such as staging and repairs. With a net sheet tailored to your home sale, Caldwell says sellers "know what to expect when we get their home under contract, and especially when we get the closing statement when we're ready to go to closing."
Article By: Gina Rodrigues