JUNE 16 2020

A total of 22 different farmer's markets in Toronto are now open or are scheduled to gradually reopen soon, and Toronto Public Health has released new guidelines for how they are allowed to operate under present conditions. These new measures apply to both farmer's markets and fresh food markets, and will help to keep both staff and visitors safe, while Torontonians get to enjoy the bounty of delicious food and products that these warm months offer.

Evergreen Brick Works Farmer's Market and the St. Lawrence Market's outdoor market opened as of this past Saturday, June 13th, and other sites where farmers' markets are usually operated and now permitted to reopen include Dufferin Grove Park, Trinity Bellwoods Park, Wychwood Barns, Montgomery Inn, David Pecaut Square, Nathan Phillips Square and Mel Lastman Square.

"The City is working with market organizers to determine the potential reopening of these markets this season in compliance with provincial rules and public health guidelines," reads a news release.

Here are the farmer's markets that are now open in toronto
This past Saturday, the giant market once again played host to local purveyors offering fruit, vegetables, preserves, and baked goods. But, it happened differently. Per the market's new mode of operation, preorders can be placed online
here
. You can browse through the local vendors — favourites include ChocoSol Traders, Evelyn's Crackers, Alchemy Pickle Company, and TC Tibetan Momo — and prepay for items that will be ready for your retrieval on Saturday. Walk-ins are also allowed, but you're asked to make them snappy. The market has new guidelines for its customers, which you can review
here
.
When:
Saturdays from 8 am to 1 pm, or by appointment
Where:
Evergreen Brick Works — 550 Bayview Avenue
Instagram
|
Website
While the St. Lawrence Market continues to be open to the public, customers are being encouraged to shop via alternative methods in order to limit contact with others. As such, a huge selection of the Market's merchants are offering adjusted modes of service, including home delivery, curbside collection, and in-store pick-up. You can refer to
this list
to find out which vendors are offering what, and trust that the content is being continually updated each day with the most up-to-date information available.
The Saturday Farmers Market outdoor area has been temporarily relocated onto the roadway of Market Street between The Esplanade and Wilton Street, allowing vendors more space for physical distancing, in accordance with the
City's
CurbTO program
.
Lineup areas for the indoor and outdoor farmers' market will start on Market Street and both areas will operate every Saturday from 5am to 3pm.
When:
Farmers' Market open Saturdays from 5 am to 3 pm; The South Market (main Market at 91-95 Front Street East) open Tuesdays to Fridays from 9 am to 5 pm, and Saturdays from 5 am to 4 pm
Where:
Market Street between The Esplanade and Wilton Street; The St. Lawrence Market Lot, south of Front and Jarvis
Instagram
|
Website

The Cabbagetown Farmers' Market's webstore is officially live. Orders must be placed between Wednesday and Saturday night for products to be ready for weekly pickup on Tuesdays, from noon to 3 pm. Browse the website to select your goods in advance so that when you drop by, your pickup will be quick and easy.

When: Tuesdays from noon to 3 pm, by appointment
Where: House on Parliament – Patio, 454 Parliament Street
Instagram | Website




The Dufferin Grove Farmers' Market has been offering online ordering since shortly after the pandemic caused a city-wide shutdown. Orders placed online by midnight on Tuesday will be ready for pickup or delivery on Thursday afternoon, so long as you live within the market's delivery zone, which spans from St. Clair West down to King West, and from Keele Street over to Avenue Road. Anyone interested in ordering delivery who lives outside this zone, or who has special requirements, can reach out to shop@dufferingrovemarket.ca.

When: Thursdays, by appointment
Where: Parish Hall of St. Anne's Church — 270 Gladstone Avenue
Instagram | Website


You can place orders in advance online for Saturday pickups in the Junction neighbourhood through this market's webstore. The digital shop is open from 5 pm on Saturdays to 10 pm on Wednesdays, and at the end of your browse, you can select your pickup time. Once the weekend arrives, stop by the market at 2960 Dundas Street West during your timeslot and grab your goodies.

When: Saturdays, by appointment
Where: Junction Train Platform — 2960 Dundas Street West, Toronto
Instagram | Website
The Leslieville Farmers' Market has offered one online-ordering-and-pickup opportunity so far this month, and they're working on planning their next while they prep to set up shop at Jonathan Ashbridge Park again. Keep an eye on their Instagram and website to learn when the webstore will reopen for preorders, so you can get your goods in the east end.

When: TBA
Where: Jonathan Ashbridge Park — 20 Woodward Avenue
Instagram | Website

HERE'S HOW FARMERS' MARKETS WILL BE OPERATING DIFFERENTLY IN TORONTO
Toronto Public Health has developed guidelines for organizers, staff and vendors with recommended safety measures.
Here's a helpful infographic: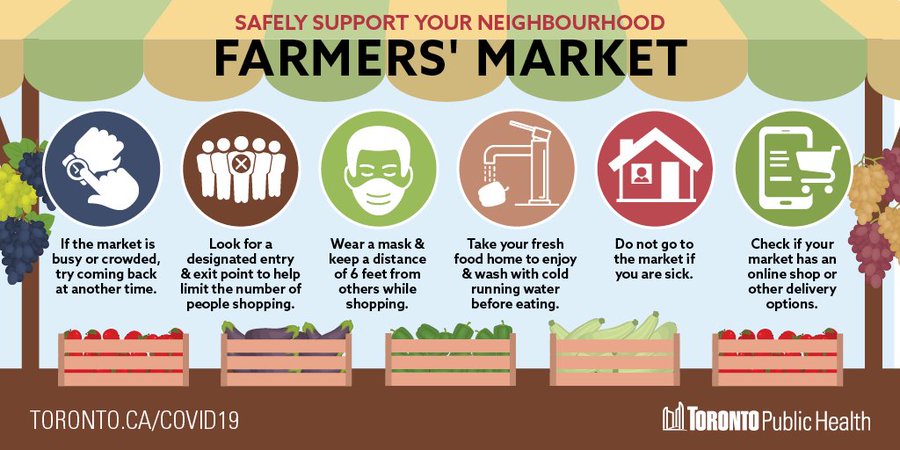 For those looking forward to visiting some of the city's farmers' markets once they begin to operate again, here's some of what you're likely to see implemented, based on public health recommendations:
Market staff and vendor screenings
It is strongly recommended that market organizers have market staff and vendors complete a health screening questionnaire before each work shift and prior to participating in markets
Attendance policies for market staff and vendors
Maintain a list of the names and contact information of market staff and vendors
Ensure sick staff/vendors do not attend the farmers' market
If a staff/vendor becomes sick with coronavirus symptoms while attending the market, they should go home immediately and self-isolate
Staff/vendors experiencing symptoms can call Telehealth, their health care provider or an assessment centre for testing
Staff/vendors who have travelled anywhere outside of Canada must stay home and self-isolate for 14 days after returning to Canada
Measures to maintain physical distancing
Single entry and exit point to control the number of customers entering the market
Signage at the entrance welcoming customers and indicating the conditions for entry
Monitor and manage customer lines
Limit the number of customers permitted into the market at any given time
Encourage physical distancing between customers attending the market
Arrange and modify vendors booths to maintain physical distancing and reduce contact
Support vendors that are providing online and/or telephone ordering services
Stagger load in and load out times, and designate locations for vendor areas prior to market opening
Hand hygiene
Alcohol-based hand sanitizer stations for customer use
Designated washroom facilities for market staff and vendors/employee use only
Increase communication with customers and vendors
Coronavirus preparations and market expectations communicated to all vendors prior to attending the market
Information provided to customers about market operations (e.g. public health measures, advance order options, curbside pickup) through different communication platforms (e.g. market webpage, email social media accounts)
Proper glove use
Glove use is not mandatory and gloves are not a substitute for proper hand hygiene
If vendors/employees use gloves they should be changed every hour, or more often as necessary
Hands should be washed with soap and water for 15 seconds before putting on and after taking off gloves
Change gloves when changing tasks, after touching your face, or coming in contact with an item that may have germs
When gloves are removed, new gloves must be used each time
Measures to protect food from contamination
Prepackaged foods offered for sale to reduce handling and direct contact
Keep food out of the customer's reach to discourage handling
Do not provide samples
Do not handle reusable containers/bags supplied by the customer
Suspend accepting product returns
Encourage customers to take their purchased foods home and wash thoroughly before eating
Proper use of cloth and non-medical face masks
Non-medical/cloth masks are strongly recommended when physical distancing cannot be maintained
Masks do not replace the need for physical distancing, hand washing, and staying home when sick
To learn more about the above recommendations, and review the list of guidelines in full,
click here
.
Stay safe Toronto, and happy local market shopping!
SOURCES:
DAILYHIVETO
,
BLOGTO
,
DISHED TORONTO