Canada's national statistics agency made investor-owned homes the subject of their latest data. Statistics Canada (Stat Can) took a dive through tax data to estimate the share of investor-owned homes in 2020. Confirming our observation last year, the data reveals investors scooped most of the new supply in the most affordable segment, at the expense of first-time buyers.
Canadian Real Estate Investors Are Concentrated In New Supply
Canadian real estate investment is overrepresented in the country's new supply. In Ontario, investors own just under a quarter (24.0%) of all housing, but nearly a third (32.3%) of homes built after 2016. It's similar in BC, where investors own a quarter of total supply (25.0%), but nearly 2 in 5 (37.8%) homes that were built after 2016.
Investor concentration is often dismissed as just an Ontario, and BC issue—but the data shows this isn't the case. In Nova Scotia, investors owned 35% of total housing supply, but 39% of new supply. Manitoba investors showed a much steeper climb, owning just under a quarter (24.1%) of homes, but 42.1% of those built after 2016.
Canadian Real Estate Investors Are Scooping Up New Supply
The share of total homes owned by investors vs the share of new supply (2016 or later) owned by investors.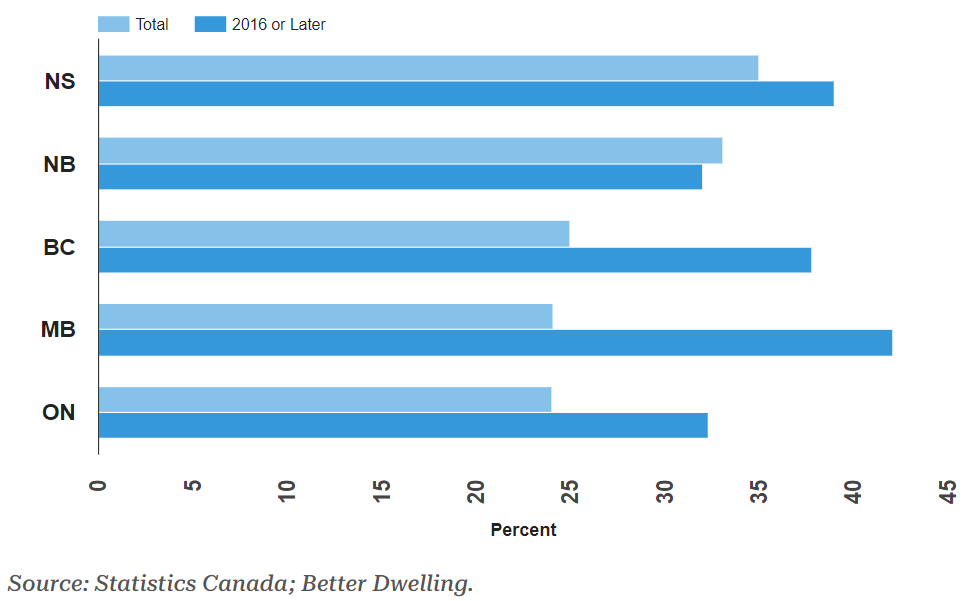 Only one of the five provinces bucked the trend—and did so in a minor way. In New Brunswick, almost a third (33.1%) of homes are investor-owned. It fell to 32% when isolating new construction, meaning new supply was underrepresented. At least compared to the heavy investor ownership that is present elsewhere.
Canadian Real Estate Investors Are Concentrated In The Most "Affordable" Segment
Canadian real estate investors are also concentrated in the most "affordable" segment—apartments. Ontario investors own over 2 in 5 (41.9%) condo apartments, but 56.4% of condo units made after 2016. In other words, investors own most of the new, more "affordable" supply, in the province. We're not even discussing the share of condo pre-sales that are flipped without being held for long.
BC showed a similar trend but with a minor tweak. Investors owned 36.8% of all condo apartments in the province, jumping to 48.9% of new supply. They're overrepresented, but not the majority—though another 8.7% of homes are owner-occupied investment properties.
In other provinces looked at, the share is generally less than 1%. They might be owner-occupied, they might not—but the unique combination of a vacancy and non-resident tax at reporting time is likely to have influenced behavior.
Canadian Real Estate Investors Focused On Buying The Most Affordable New Supply
The share of total condo apartments owned by investors vs the share of new supply (2016 or later) owned by investors.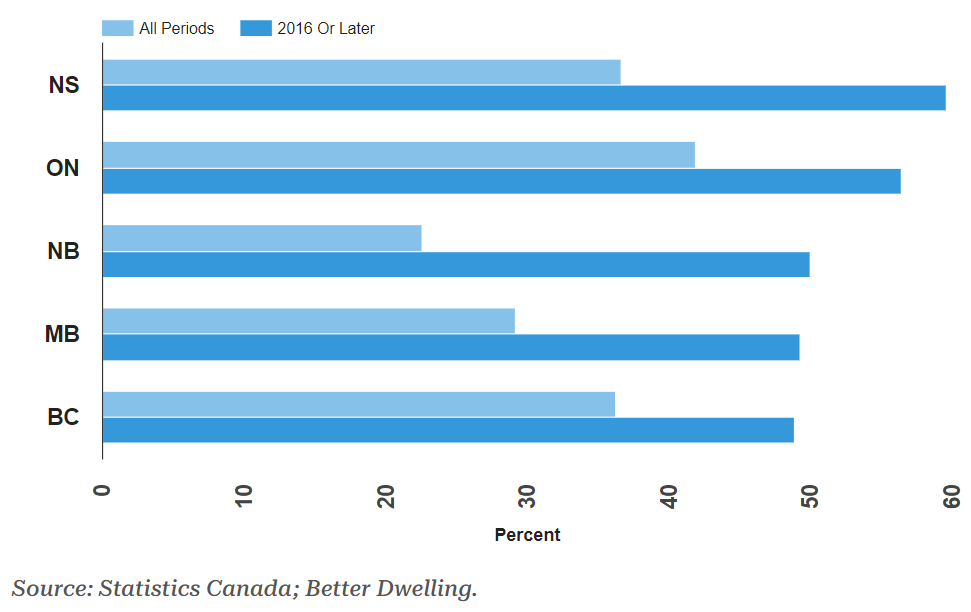 Circling back to investor owned condos, the trend tracked for the other three provinces. Nova Scotia condo apartments are 36.6% investor-owned, but they captured most (59.6%) new supply. Ditto in Manitoba, where investors own over a quarter (29.2%) of condos, but nearly half (50.0%) of those built after 2016.
Even in New Brunswick, condos were too attractive of an investment to pass. Investors owned over 1 in 5 (22.6%) condo apartments, but half (50.0%) of the new supply. Despite bucking the trend for all types of housing, condos still proved attractive to investors.
Since this is 2020 data, the trend has likely accelerated. Investor activity has trended higher since 2015, but it really got out of control in 2021. The combination of low rates, soaring prices, and moral hazard created made it even more attractive for investors. Combined with the preview Ontario's land registry data provided, it would be hard not to see this trend accelerating in next year's update.
Investors increasing their share of the market drives competition, and thus prices higher. When concentrated in a specific segment like new condo apartments, the impact can be amplified. This doesn't just send prices soaring, and out of reach for younger end users. It also drives rents higher, by introducing a profit layer between the investor and the end-user. More money spent on shelter means less money for the economy—meaning this isn't just a problem between first-time buyers and their landlords. It's going to be a country-wide issue.
For those still unsure, RBC made this trend crystal clear last year. The country's largest bank revealed that first-time buyers are being replaced by investors in their books. At the time, they called it a "sad state of affairs." Today's data doesn't look like they're the only ones observing this trend.
Article By: Better Dwelling