Whether you're looking to sell down the road or you'd just like to give your space a refresh, there are many home improvements you can do on your own to add value to your home. A well-informed homeowner will keep track of all remodels or updates over the years, while being aware of the projects that can provide the best return on investment in the future.

Home improvement costs can add up quickly, but maximizing your home's value by making improvements and adding curb appeal can be beneficial when selling your home.

Here are 14 DIY projects that can add major value to your home:
Interiors:
1. Declutter & Clean
2. Freshen Up the Walls
3. Update Lighting
4. Hang Mirrors to Open Up Rooms
5. Add Storage Where Possible
6. Keep Your Kitchen Current
7. Freshen Up Your Bathrooms
8. Restore Hardwood Floors
9. Update Worn Internal Doors

EXTERIORS:
10. Upgrade Your Landscaping
11.
Think "Green"
12. Check the Gutters
13. Bump Up the Curb Appeal
14. Repaint or Replace Your Front Door
---
1. Declutter & Clean
First impressions count! Make the interior of your home shine from floor to ceiling by taking the time to declutter and spruce up your space.

First, go room by room and estimate how long it will take to declutter each space—limiting yourself to 2 hours for the biggest projects, and completing the smaller ones, such as the bathroom, in about 30 minutes.

When you're ready, start by picking up personal items and storing them neatly away, in labelled containers. Here's a pro tip: for those items you can't help but belabour over, create a separate "indecision" pile that you can go through at the end of the entire decluttering process, rather than letting tough calls slow you down at every turn.
Then wipe down counters, baseboards and all areas inside and outside of the house. Wipe off smudge marks on all windows, doors, and mirrors. Deep cleaning and decluttering your home is one of the easiest and cheapest ways to keep your home looking its best, and increase its value!



Source: (The Creative Exchange/Unsplash)
2. Freshen Up the Walls
If your walls are scuffed, marked or dull, or if the colour is dated, a new coat of paint can work wonders and an inexpensive way to completely transform a space. Choosing neutral colours like off-white, a soft gray or light tan will also make your room look bigger and appeal to a wide range of buyers, potentially increasing your home's value.
3. Update Lighting
Brighten up your home without breaking the bank by simply opening windows, cleaning skylights and removing outdated curtains or blinds that may be blocking natural light. Have old lighting fixtures hanging from your ceiling? Get rid of any eyesores by updating your lighting with an eye-catching chandelier or a modern ceiling pendant. Update your light bulbs to LED to boost efficiency.
4. Hang mirrors to open up rooms
A well-placed mirror can do wonders for the appearance of small or narrow rooms, as they add depth and make them appear larger by reflecting and amplifying available light. In fact, this is a classic home staging technique used by real estate agents to entice buyers. Little touches like this can make all the difference!
5. Add storage where possible
Many older and smaller homes are lacking in storage. Adding additional cupboards and shelves where possible will make your home more practical and easier to live in, making it stand out from other properties. There are many cheap DIY options available, so it's a simple way to improve the appraised value of homes.
6. keep YOUR Kitchen current
The kitchen is the most valuable room in the house and is one of the biggest selling points for potential buyers. It's no longer just a place to cook food; instead it's often the hub for socialising and hosting guests.

A full kitchen remodel can add serious selling power and massively increase the value of your home, but even smaller incremental changes in the form of easier kitchen DIY projects can make a difference when it comes to valuation day and attracting buyers. Here are some ideas:
Update Cabinets
Are your kitchen cabinets dark and dull? Cabinets often endure a lot of abuse, with grease and grime from cooking often slowly building up over time. Plus, different kitchen styles are always going in and out of fashion, so it's easy for cupboards you bought several years ago to start looking dated. A repaint can revitalise and modernise your kitchen, whilst saving you the far bigger expense of refitting the entire room with brand new cabinets.

Cabinets painted in an ever-popular white or light shade will brighten up a room and make it appear larger. Before painting, be sure to clean the cabinets with a degreaser and then remove all hardware and doors. Swap out generic or older cabinet knobs and pulls for sleek chrome or modern black fixtures.
Install a Backsplash
Installing a kitchen backsplash will instantly boost the value of your home. By adding one behind your stove, you can protect wallpaper and paint from cooking splatter, which can stain and damage walls. On top of that, they act as a barrier against water, blocking the growth of mould.

They're available in a wide range of styles and materials, from ceramic tile to glass, metal and wood. This means you're sure to find one that really matches your kitchen and enhances its unique flair. This fantastic mix of functionality and beauty is why it's a great home improvement and one of the best ways to increase home value.


7. Freshen Up Your Bathrooms
As bathrooms are constantly exposed to water and damp, it's worth carrying out a few simple DIY jobs to make sure it's in tip-top condition. Although none of these changes are as dramatic as a full-blown bathroom renovation, they still go a long way in updating the look of your bathrooms, and thus adding to your home's overall value.
Add Storage
Ample storage is one of the most desired attributes in a home nowadays, but it's quite common for bathrooms to be a bit short in that department. Building your own bathroom cabinet or installing a set of floating shelves can remedy this, as well as providing a cost-effective way to add value to your home.
Update Cabinets
Painting your bathroom cabinets and installing new hardware is an easy DIY fix that can yeild dramatic results. As with kitchen cabinets, opting for a white or light shade will make the space appear fresher, brighter and larger. Change up your cabinet hardware as well, to comlete the updated look.
Replace the Toilet Seat
Here's one you may not think of change! If your toilet seat is starting to look worn, installing a new one is a very easy 10 minute job and only requires a few basic tools. Of course, don't expect a huge increase in value from this, but it will certainly help to improve the appearance of your bathroom.
Install a New Shower Head
Shower heads don't last forever – they're in a bacteria-rich environment, and over time, they can start to develop mould or slime that resists attempts to clean it. Eventually, they need replacing and if you're looking to sell your home anyway, it's a very easy DIY project (even for beginners!) that will heighten your home's appeal.
Other Updates to Consider
Check for leaky faucets or poor drainage, consider re-grouting your shower or installing a tile backsplash, and of course, always keep it clean.

These easy fixes will give your bathrooms a major facelift while adding value to your home!


8. restore hardwood floors
Pull up a corner of your carpet and peek underneath. If there's a hardwood floor underneath, you're in luck! Many older homes are likely to have hardwood floors hiding underneath the carpeting. Furthermore, new hardwood floors are expensive, so why not take advantage of what you've already got by restoring existing hardwood floors to their original beauty!

While the idea of removing carpeting and refinishing wood floors on your own can seem like a daunting task, with the proper tools this DIY project can be done on a budget. From prepping and removing carpet to stripping, sanding and cleaning the floor to stain and seal, hardwood flooring can deliver a very significant return on your investment.
9. Update worn internal doors
Internal doors are constantly in use, and as such, they can deteriorate over time. Think scuffs, scratches and even falling out of place all together! Replacing them with fresh new doors can really enhance your home's aesthetic appeal.

Similarly, you can refresh your doors with new handles. This is a minor aesthetic improvement, but one that's very simple to implement. Door handles can become damaged with repeat use (or they can just start to look outdated) and replacing them can help to update a space.
---
10. Upgrade Your Landscaping
Just how much does landscaping improve home value? Well, it probably goes without saying that an overgrown and out of control garden can seriously impact on your property's curb appeal. On the other hand, a well maintained and landscaped garden will help to create a positive first impression for buyers and you don't need to make major changes to capitalise on this.
Are your trees and shrubs looking overgrown and unkempt? Could they use a good pruning? Is the lawn thick and green or are there bare spots? Patch any bald spots with new sod and prune trees and shrubs. Add new shrubs or greenery next to the walkway, the mailbox, and near the front door. Tidy up any leaf debris, weeds or withered plants. Finally, plant colourful flower beds. Like a new haircut, your yard will look tidy and refreshed.

Not sure where to start? Check out The Beginner's Guide to Gardening and Landscaping here!
11. Think "Green"
Any yardwork that improves the curb appeal of your home will benefit you long term. While maintaining your yard by raking leaves, watering plants and removing weeds is key, it's also important to think "green" when it comes to your landscaping. Choose low-maintenance landscaping, such as adding beds of mulch instead of grass or choosing drought-tolerant plants to cut costs by requiring little effort on your behalf for upkeep. Consider creating a low-maintenance native plant garden that will help bees, birds and butterflies - learn more here.
12. Check the Gutters
If your gutters are clogged with debris and working improperly, water that should be carried away can seep inside the wall or pool in the yard next to the foundation. Furthermore, this can cause mold and mildew problems and may over time, compromise the structure of your home which may lead to an expensive repair bill. Clean your gutters by scooping out any vegetation that may be there with a garden trowel and then run water from a hose through your gutters to ensure that they are clog free.
13. BUMB UP THE CURB APPEAL
The front of your house is the first thing potential buyers see, so make sure it's stately and welcoming. Adding some extra plants to the porch or the entryway, cleaning up debris, and replacing house numbers or your mailbox can go a long way in creating a great first impression for your home.

Check out other DIY tips for increasing your curb appeal here.
14. Repaint or replace your front door
Front doors are an obvious focal point for anyone entering your home – and a worn out door can give the wrong impression. For a cheaper solution, simply repaint your front door to brighten and refresh your home's exterior. If you're willing to spend a bit more, opting to replace the door means you can select a more modern style to fall in line with today's trends.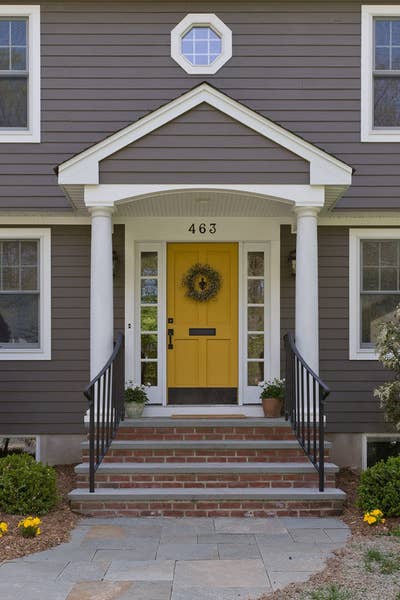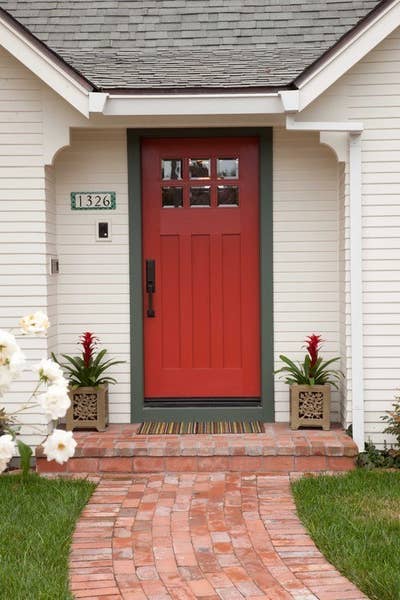 Source: postcardsfromtheridge.com
---

Focus on these DIY projects to ensure you will have the greatest impact at the time of selling your home. If you plan on selling your home a few years from now or your home is actively listed, these DIY home improvements will add value to your home without making any major transformations or expensive repairs and remodels.
NOT SURE WHAT PROJECTS MAKE THE MOST SENSE FOR YOU?
We can help you determine what kinds of projects would add the most value to your home. Reach out to us!
Source 1 / Source 2 / Source 3 / Source 4 / Source 5 / Source 6